Spandex 4 Men
Spandex Underwear
Bodysuits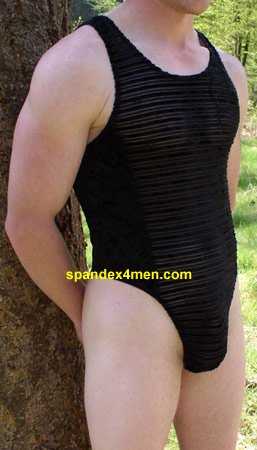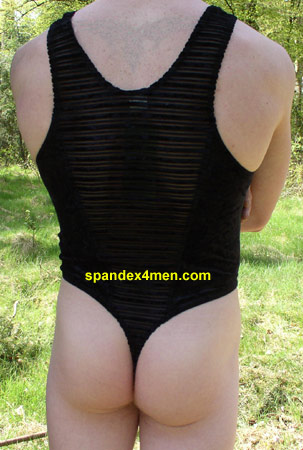 String bodysuit 'Black Velvet', E35.00
Sensual bodysuit with thong back, made of a black velvetty fabric.
The front and back panel are transparently striped, the sides are completely black. (95% polyester and 5% Lycra®)
Also very well suited as "shirt" during sports or going out.
In stock in sizes S, M, L. From all sizes only ONE item available!
For your indication: The slim, muscled guy on the pictures is 1.78m (5'10") and 76kg (170lbs) and wears size Large. It fits hem well, but there is sufficient space left for some extra kilos and/or some extra length.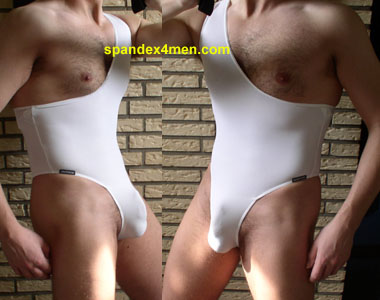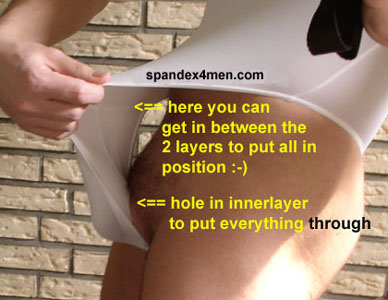 Olaf Benz/Manstore Thong-bodysuit 'Aerotick', E60.00
Macho one-armed bodysuit made of a super thin, stretchy and very comfortable fabric (80% nylon and 20% Lycra®) with a thong back.
The special anatomically formed front pouch is double layered: the inner layer fits close to your body and has a hole in it to pull your genitals through (gives a cock ring effect) so that they get in between the 2 layers of second skin lycra.
Great to wear during sports (you'll turn heads :-) ) or as undergear and clubwear.
Size M: White (waist 31-34", length 1.70-1.83cm/5'7"-6'0") SOLD OUT!
Size L: Black (waist 33-36", length 1.78-1.90cm/5'10"-6'3")

How can I order?
Index EN